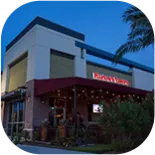 Marlow's Tavern
Lee Vista
Open today: 11:30am - 10pm
Mon-Thur: 11:30am - 10pm
Fri-Sat: 11:30am - 11pm
Sun: 11am -10pm
Whether you're looking for a great spot for dinner, a place to grab a quick lunch, or a night of drinks with your friends, Marlow's Tavern is the perfect place for you and your guests to unwind! Our restaurant is proud to offer high quality, made from scratch meals in Lee Vista, where our menu includes incredible Happy Hour deals, and tavern favorites like our grilled Atlantic salmon and our classic Southern staple of shrimp and grits.
Here at Marlow's, we embrace a relaxed neighborhood vibe. There's a reason we're the go-to-spot for friends, co-workers, and family to come together over delicious food and fabulous drinks. Marlow's offers classic tavern seating, and even a few flat screens to let you enjoy the big game without distracting from your company. You can also enjoy our patio, where you can dine outdoors and savor handcrafted cocktails wile soaking in the snshine!
Meet Me at Marlow's - your go-to destination for delicious food and a great time!