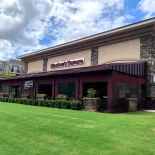 Marlow's Tavern
Brookhaven
Open today: 11:30am - 9pm
Mon-Thur: 11:30am - 9pm
Fri-Sat: 11:30am - 10pm
Sun: 11:30am - 9pm
Insider Club
Sign Up to be a Marlow's Insider to get exclusive offers & event invitations.
About Marlow's Tavern Brookhaven
Whether you're looking for a great spot for dinner, a place to grab a quick lunch, or a night of drinks with your friends, Marlow's Tavern is the perfect place for you and your guests! Our restaurant is a great place to get a high quality, made from scratch meal in Brookhaven, GA, where our menu includes tavern favorites like our grilled Atlantic salmon and our classic Southern staple of shrimp and grits.
Here at Marlow's, we embrace a relaxed neighborhood feeling. This is a great place where friends, coworkers, and family can come together over a great meal. Marlow's offers classic tavern seating, and a few flat screens to let you enjoy the big game, but that aren't distracting from your company. There's also a patio to welcome you to outdoor dining, where you can enjoy handcrafted cocktails and enjoy some sunshine all at once.