Thanks for printing! Don't forget to come back to Marlow's Tavern for fresh articles!
American Tavern Fare
The Usual? We don't serve that here.
Our Neighborhood
Our community feeds us and we are more than happy to reciprocate.
When we're not cooking, we're connecting with the people and causes that are closest to our hearts. Talented artists and musicians that draw their inspiration from these same streets. Local farmers who believe in better food, not bigger production. And events that keep us all grounded with what really matters most in life. We hope you'll visit soon!
Insider Club
Sign up to be a Marlow's Insider to get exclusive offers & event invitations.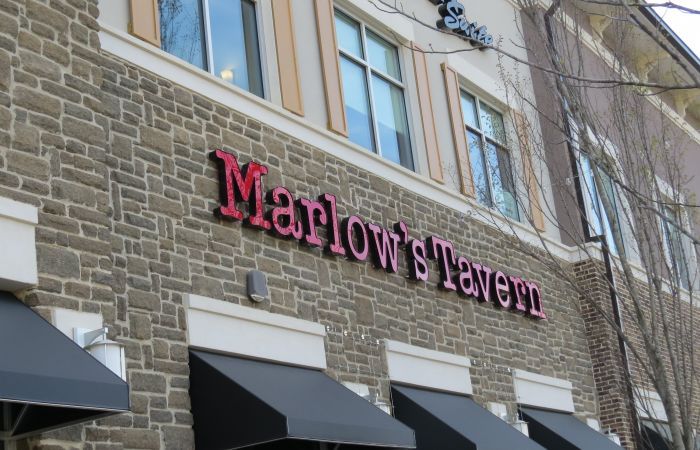 Emily
You MUST try the chickpea fries!! LOVE LOVE LOVE!! This place is across from the outlets. Service is good, we love sitting at the outdoor bar when we have time to relax and just have a drink. Great location and friendly staff. Oh! Almost forgot the Marlow's chips. Yep, I could just dine on the apps!
Darrin
This is not a review but a huge shout-out! Your staff was absolutely some of the best I have seen I a very long time. The food was over the top. Portions that made common sense. Look forward to having business and family along at Marlow's Tavern.
Pamela
Good atmosphere, service friendly. Large portions of food, innovative. Superb selection of beers. Definitely well worth repeat visits.
Marlow's Tavern

Peachtree Corners - Takeout, Lunch & Dinner Dine In!Get Directions
Address
5210 Town Center Boulevard Suite 260
Peachtree Corners, GA
30092
Hours
Sun - Thurs 11am to 8pm
Fri and Sat 11am to 9pm

About Marlow's Tavern in Peachtree Corners, GA
Don't turn on the oven. Don't fire up the grill, and whatever you do, don't dirty up any pots, pans, or dishware. There's no need when you can find a fresh, made from scratch meal in Peachtree Corners, GA, at Marlow's Tavern. Whether you're seeking patio dining or a comfortable and modern atmosphere and some of the best food in town, you'll find it at your neighborhood Marlow's Tavern.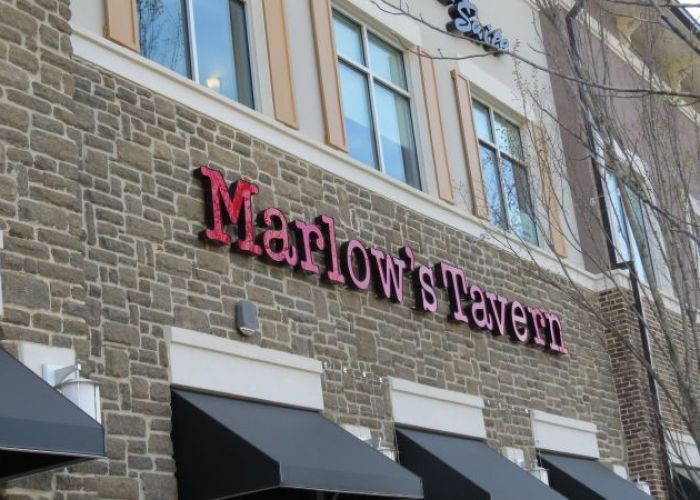 The contemporary atmosphere, handcrafted cocktails and made from scratch meals are a perfect complement to a night out with friends or a cozy evening of the best patio dining in Peachtree Corners, GA. Our sleek and modern black and white motif complement a diverse menu of classic dishes with a modern flare.
Enjoy a crisp cool salad, like Marlow's Tavern Black & Blue Steak Salad. Enjoy beef tenderloin on crisp field greens, Roma tomato, and slivered red onion with creamy Gorgonzola dressing, or dive into a Roast Chicken Panini, featuring Prestige Farms Chicken, Melting Provolone, Arugula, Roma Tomato, Apple-Wood Smoked Bacon, Basil Aioli and Pressed Ciabatta Bread Or sample one of our handcrafted flatbreads, made daily with the freshest ingredients available. Don't forget to save room for dessert, like our fried banana split or classic creme brulee. There's something for everyone on our diverse menu!
Atmosphere
We pride ourselves on our open kitchen that invites diners to observe while our chefs whip up brunch or a delicious made-from-scratch dinner. Enjoy home cooked tastes with delightful flourishes prepared by our amazing chefs. Tuck yourself into a cozy booth and enjoy a date in an atmosphere made for comfort and appeal.
Better yet, slip outside to a table on the best outdoor patio around and enjoy the stars while you sip a handcrafted cocktail and enjoy the company of old friends at your neighborhood tavern, Marlow's!
Whether you visit on a weeknight to grab a quick bite or linger over drinks on a weeknight, the warm atmosphere and great food at Marlow's Tavern invite you to return again and again.
Food for Brunch in Peachtree Corners, GA
Though known for our inspired handcrafted cocktails and made from scratch dinner experience, Marlow's Tavern is also pleased to offer the best brunch in the area. Dine at a cozy booth inside, watch the chefs spin a brunch worthy of sharing food photos, or enjoy a breezy cocktail with brunch on our outside patio.
With an inviting atmosphere, made from scratch meals, and handcrafted cocktails sure to delight, a meal at Marlow's Tavern means a clean kitchen at home and a full and happy belly courtesy of the best restaurant in Peachtree Corners, GA.