Winter has arrived, bringing shorter days and cooler temperatures. Residents of Georgia and Florida, there is no better way to escape the brisk days or chilly evenings than by visiting your favorite neighborhood restaurant, Marlow's Tavern. Marlow's Tavern is the best restaurant serving American tavern fare. The made-from-scratch restaurant offers a contemporary atmosphere with an invigorating cocktail and some mouthwatering dishes. Here is a guide to the winter menu at Marlow's Tavern.
Winter Wonderland Favorites
With winter comes an array bright, earthy flavors that are sure to dazzle your taste buds. The winter menu at Marlow's Tavern has your favorite dishes, which are made with fresh, local ingredients. Berries of all kinds are a popular winter staple, adding depth to cocktails, like Marlow's blackberry mojito. This popular cocktail infuses Bacardi light rum with the rich flavor of blackberries and cool, refreshing notes of mint and lime.
Brie is perfect for the winter season. The cheese boasts a rich fruity flavor and creamy texture that is sure to please everyone at the table. Marlow's brie fondue blends the ooey-gooey goodness of brie cheese with a crisp white wine to create a delicious pot of gold you can enjoy alone or dip some warm, soft pretzel bread into. These cherished standbys are what makes keeps customers coming back for more all season long.
Delectable Upgrades
Winter signals that the holidays are just around the corner. As one of the best restaurants with made-from-scratch food, Marlow's doesn't disappoint with tasty upgrades to classic holiday fare. This winter season, you can feast on Marlow's succulent Roast Turkey Meatloaf, which melds two holiday classics into one delicious entree. This dish features a creamy cauliflower puree, shaved Brussels sprouts, a tangy-sweet sauce veloute, and crispy fried onions.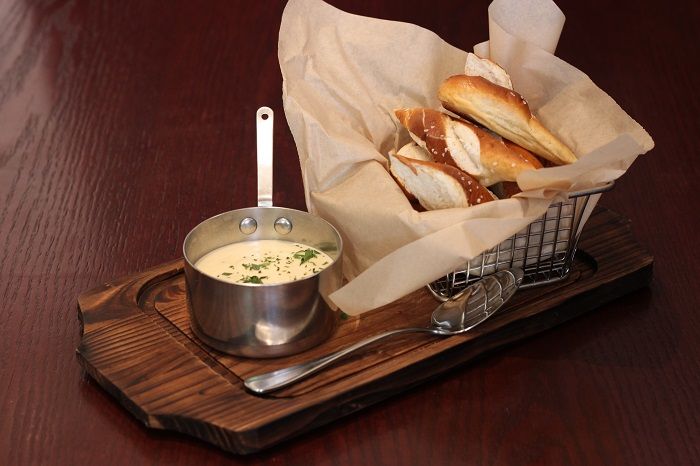 Newcomers
There are also some amazing new creations at Marlow's Tavern this winter. Highlights include the Grilled Center-Cut Filet, topped with a red wine demi reduction and paired with crispy smashed red baby potatoes and tiny green beans. The Blazed Bone-in Chicken combines seasonal vegetables with spice. Sides of jalapeno grits, charred corn, and poblano peppers and chorizo in a jalapeno glaze pack the heat, while hominy and zucchini help cool your palate.
The Southwestern Buffalo Chicken Wrap combines Southwest spices with rustic winter produce. A crispy tortilla is filled with juicy roast chicken in a bold buffalo sauce with Mexican street corn, poblano and red pepper, jack cheese, tomato, kale, Napa cabbage, and carrot. Your mouth will be bursting with flavor with every bite.
Cozy Cocktails
Nothing brightens a cool winter day or night like a refreshing cocktail infused with seasonal flavors. Marlow's Tavern offers two handcrafted cocktails that complement this season's delicious additions to the menu. Check out The Matrix, a blend of Ada Lovelace gin, Hamilton pimento dram, petite cane syrup, fresh lemon, aquafaba, and grains of paradise. Or get cozy with friends while sipping on The Pioneer, an infusion of ASW Distillery's rye and cherry smoked barley duality, fresh lemon, honey, aquafaba, Fever-Tree spiced orange ginger ale, and rose water mist.
Wine is another popular choice during winter celebrations. Marlow's has a new "Sommelier Select" variety of handpicked red and white wines. The winter wine list includes a 2018 Peju sauvignon blanc and 2016 Duckhorn merlot from Napa Valley, a 2016 Ramey chardonnay, and Patz & Hall pinot noir from the Sonoma Coast. Try a glass of any of these offerings or buy a bottle everyone can share.
Marlow's Tavern has a dazzling array of tasty dishes and drinks on this winter menu. Check out our full menu online.